The Concrete Polishing System Designed for Power Trowels
The fast and simple way to polish large concrete areas – in a fraction of the time!
If you are a concrete polishing professional, then you know that large-scale projects greatly impact your production times when you use traditional planetary grinders. Limited working widths on planetary grinders (18" – 32"), combined with the number of machines you have, plus the labor to operate them – often make it difficult to keep your productivity high, and your costs low.
The iShine TPS Trowel Polishing System is specifically designed to use the high speed and large footprint of a Power Trowel to create beautifully polished concrete floors. Quick and Easy. iShine TPS uses engineered diamond tooling that fasten directly to any power trowel float pan. This allows you to use the size and speed of your power trowel to polish large areas in record time. 
The system is available in a 7 Step or 4 Step process – depending on your desired level of finish.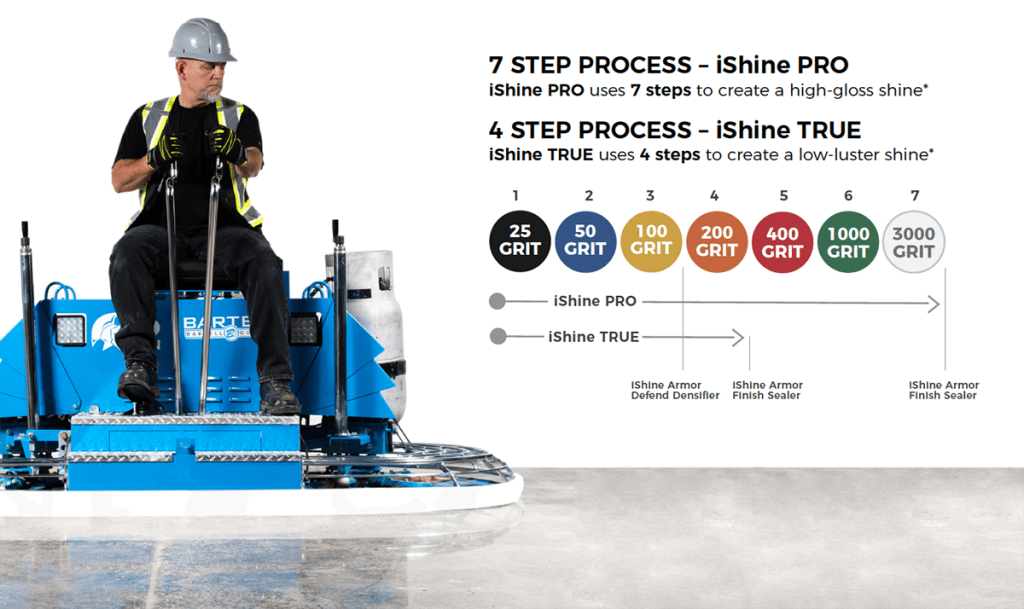 The wet concrete polishing process that increases your productivity
Polish up to 10,000 Square Feet per Day
iShine TPS lets you polish thousands of square feet of concrete in a fraction of the time as traditional planetary grinder polishing.*
Combining engineered simplicity to your Power Trowel for increased productivity, ease & efficiency.
The iShine TPS system is engineered to use the power and size of your power trowel to effectively polish concrete. The fastening system is strong & durable and easily applies directly to your float pans. The mounting pad provides flexibility between your float pans and your tooling so that the tooling stays in contact with the contours of the concrete. Changing tooling between stages is quick and easy and the system works wet – so there is no harmful silica dust to worry about.
iShine TPS has simple components and is easy to install – making this one of the most versatile systems on the market.

Maximize Labor. Maximize Time.
While traditional planetary grinding is still an excellent option for polishing concrete – it can be less efficient when polishing large scale projects.


*Production rates, aggregate exposure and shine levels may vary significantly depending on factors like: concrete quality, concrete hardness, obstructions and pillars, as well as your desired end result for the level of finish.